The pipe organ in the gallery of the main hall is the jewel in the crown of the Sacred Heart Centre. Information from various newspaper articles record that the organ was built by Blackett and Howden organ builders in 1913.
Following the acquisition of the building by Sacred Heart parish in 1984, one of the projects undertaken was to refurbish and upgrade the organ. This work was undertaken by Nicholson organ builders 1986-87. The project was coordinated by Mr Ieuan Thomas, who successfully raised £45,000 to enable the upgrade to take place. Funders included the Carnegie Trust, Ford, Morganite and the Morriston Orpheus Choir. The parish was advised by Dr Gilbert Kennedy, a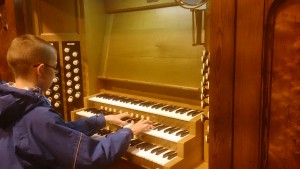 n international concert organist, who commented that the organ was of exceptionally good tone when coupled with the excellent nature of its surroundings. Dr Kennedy played the opening recital on 20 June 1987.
The specification can be found on the National Pipe organ register instrument D07275. The 'positive' or choir manual is only prepared for, along with spare stops for additional tone colours on the Pedal and Great divisions, along with additional couplers. It is hoped we will be able to add to the organ in the not too distant future.
The organ is regularly used in parish and community events and concerts. The Sacred Heart Parish choir practice is held every week in the gallery using the organ, and it is used for practice by the parish organist and several other local organists on a regular basis.
See the forthcoming events page for details of recitals.
For access to the organ for practice, teaching or performance use, please contact parish organist Paul Relf on sacredheartcentremorriston@gmail.com or call 07838 249060.